HubSpot's annual INBOUND conference announced several new updates to our platform ecosystem and services. But these updates offer more than just a new set of features; they're a better way to keep up with your customer's ever-changing needs and grow with them.
Our time has created isolation and distance in our personal and business lives—a time of unprecedented connection. Every day, we are connected to more people and information than ever. And yet, despite this connection, we often feel disconnected from the things that matter most to us. We are disconnected from our families, our friends, and even ourselves.
We can fight against the modern crisis of disconnection by choosing to connect with the things that matter most to us. We can choose to connect with our families, our friends, and ourselves. Likewise, customers now demand a genuine experience, one that is flexible, personalised and valuable.
The world is changing, and so is how we do business. This has created a need for new skills that will help us to understand each other better, communicate more effectively across borders and support each other.
HubSpot's latest feature updates announced at INBOUND 2022 offer more than just software; they're a better way to grow with your customers. The nature of business has changed. Customers are no longer just one entity but rather a connected cohort that now spans the globe - and companies need to be able to connect with them all if they want growth in this new era; the Age of the Connected Customer.
"With HubSpot's commerce-powered CRM platform, you can connect your data, your customers, and your community all in one place" HubSpot.
Let's dive into this year's INBOUND; HubSpot solutions drive better customer connection:
HubSpot Marketing & Sales Updates
Customer Journey Analytics
To provide a customer-centric experience, we see every engagement and understand precisely what works and doesn't. HubSpot announced the upcoming launch of customer journey analytics. The new feature will allow marketers to see how customers interact with their brand across all points in a single, easy-to-understand format - from when they first encounter your company through follow-up behaviour later on down the line.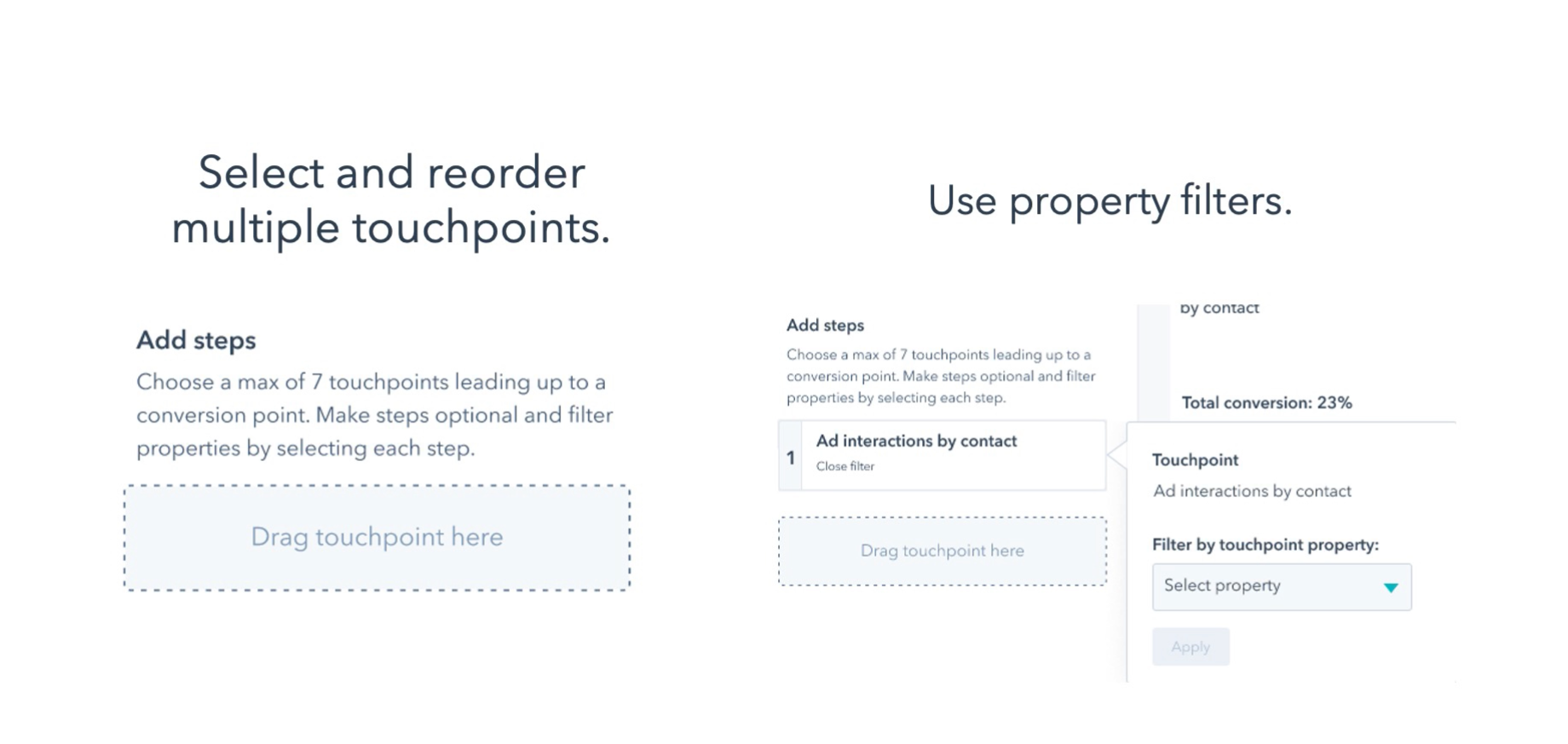 Customer Analytics is a powerful way to see your marketing activities in one place, view the multiple paths prospects, and customers take with your brand and optimize moments that matter most to increase conversion. By understanding customer behaviour across ads, email, page views, media, and more, you can identify opportunities to improve the customer experience and make more informed marketing decisions.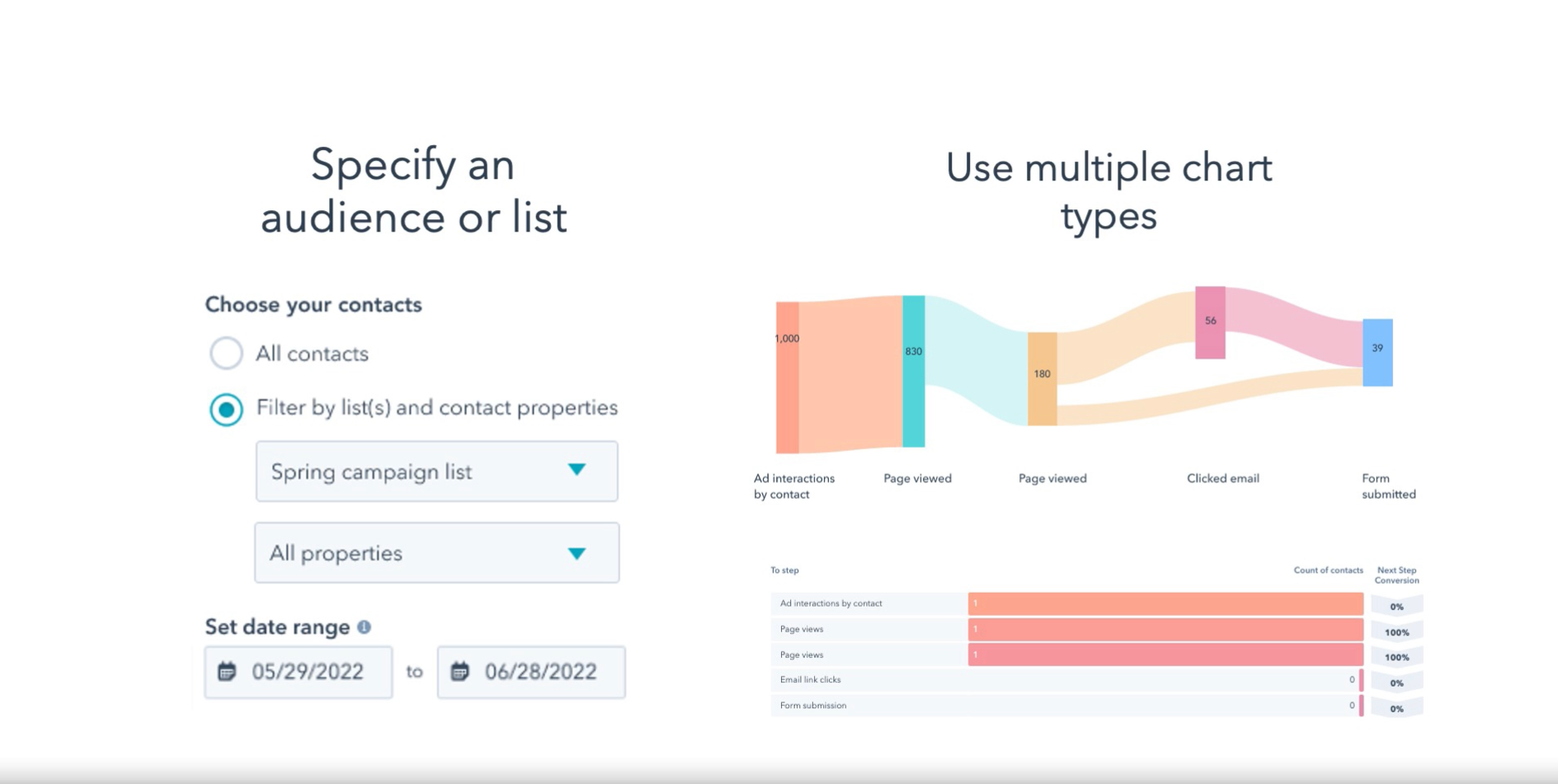 Customer Journey Analytics can also help you better understand which channels are most effective at different customer journey stages, allowing you to allocate resources more efficiently and improve ROI. Ultimately, customer analytics provide a wealth of insights that can help you improve conversion rates and drive growth.
You can view your marketing activities together (across ads, email, page views, media, and more), see the multiple paths prospects and customers take with your brand, and better optimize moments that matter to increase conversion.
Public Beta
Available to Marketing Enterprise Customers
M
arketing Campaigns Enhancements
HubSpot's Campaigns tool provides marketers with a consolidated view of all initiatives, making it easy to track progress and ensure alignment with company objectives. The HubSpot product team has released several enhancements to the tool, including new features and improvements to existing ones. One of the most noteworthy additions is the ability to create custom campaign types.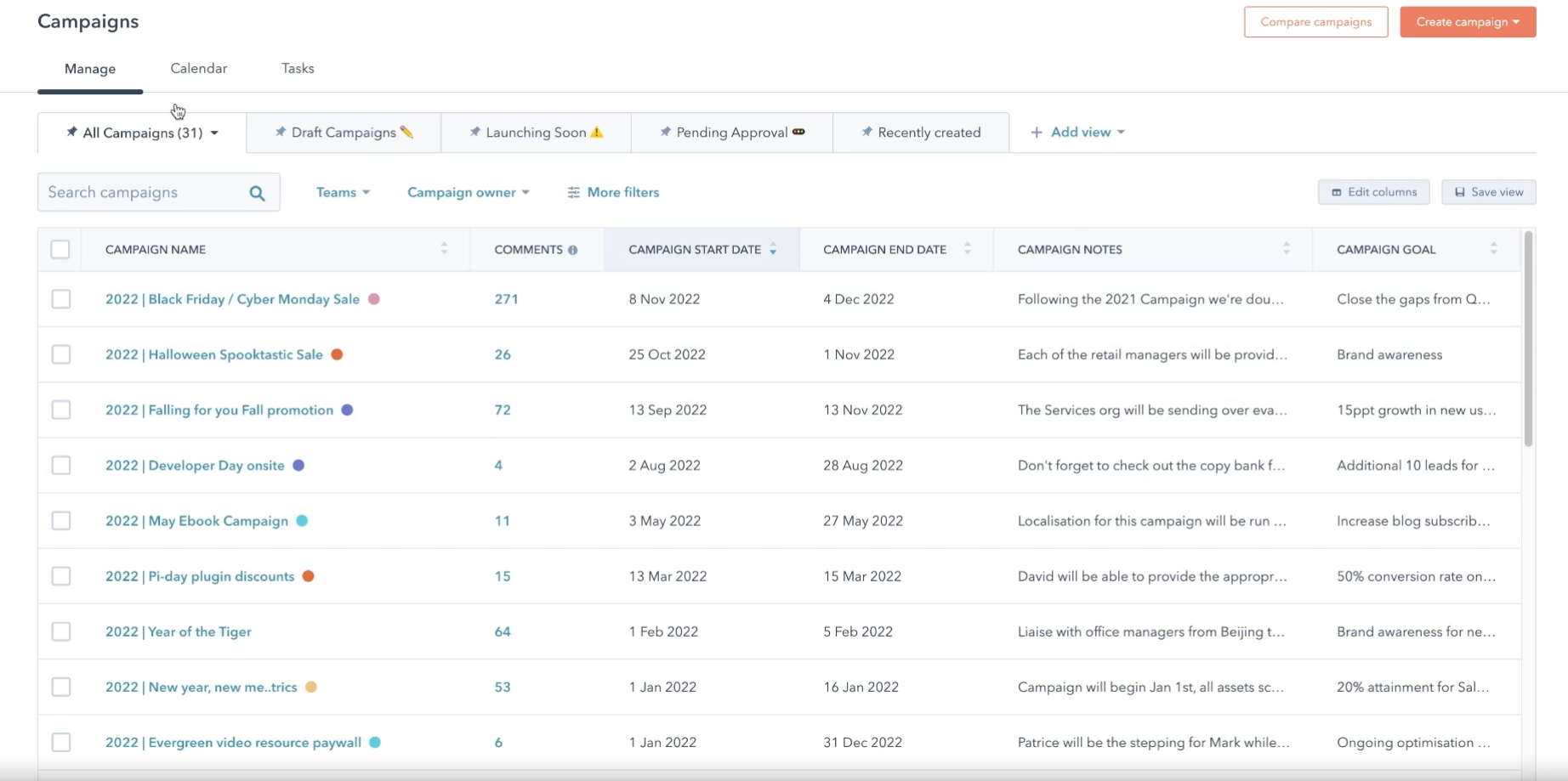 This will allow marketers to track and report on specific initiatives, such as product launches or brand awareness campaigns. Other enhancements include improved campaign scheduling and reporting, as well as greater flexibility in campaign management. These improvements make HubSpot's Campaigns tool an even more valuable resource for marketing teams, making it easier to manage and optimise their initiatives.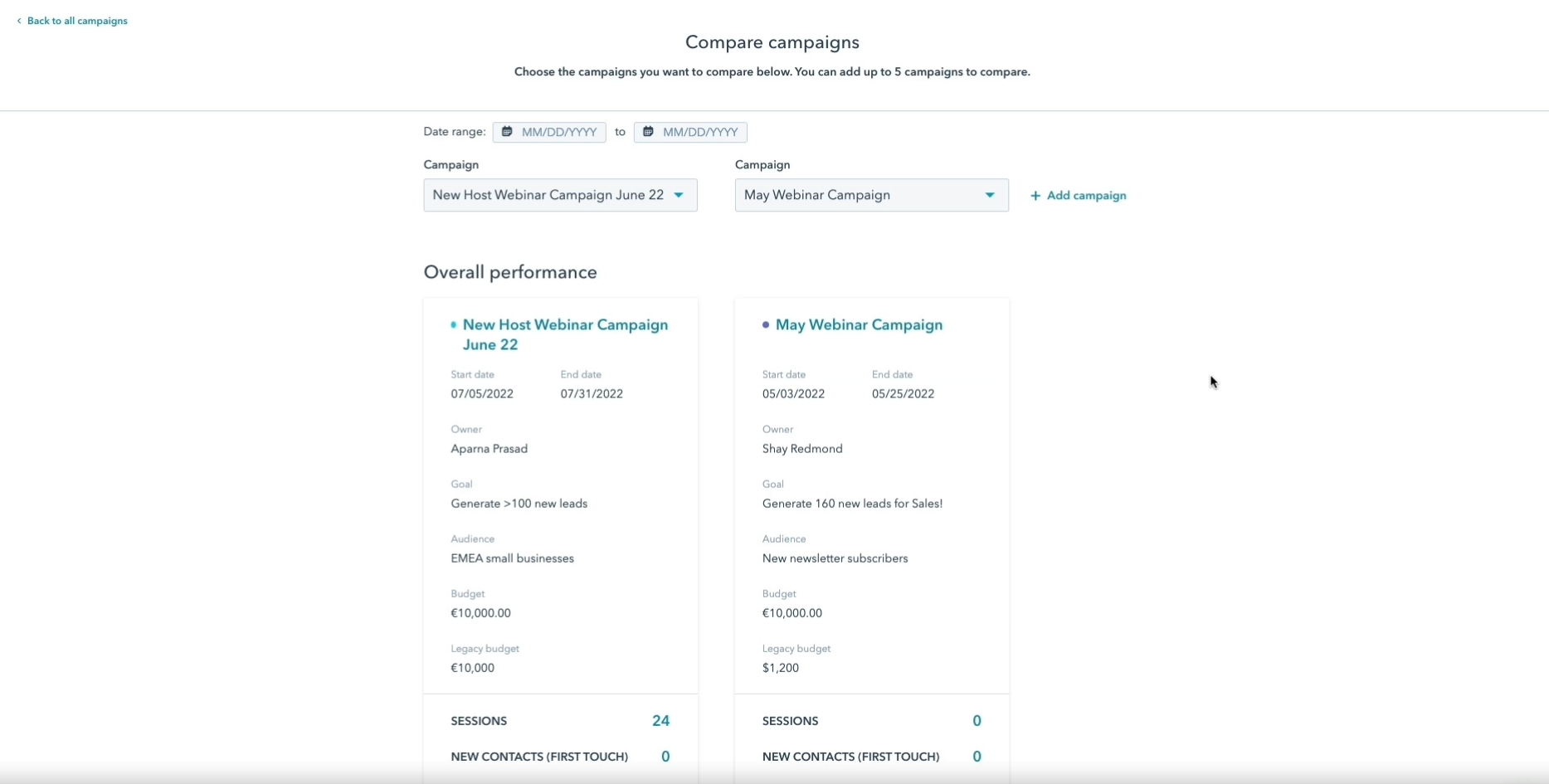 Now Live
Available to Marketing Hub Professional and Enterprise Customers
SEO Analytics 2.0
Staying on top of your website's performance on Google search can be crucial for driving organic traffic to your site. Thankfully, HubSpot now offers a way to streamline this process with the new SEO Analytics 2.0 tool. Instead of switching between HubSpot and Google Search Console, you can now view your pages' organic search metrics in one place.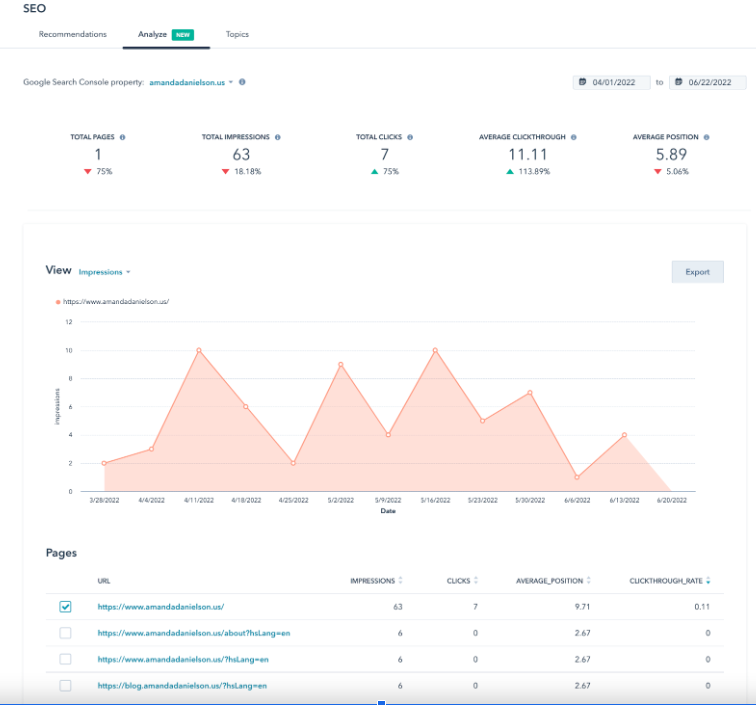 This means that you can easily track the success of your SEO efforts and make adjustments as needed to improve performance. Additionally, HubSpot's SEO Analytics 2.0 tool allows for deeper analysis through filters and segmentation options, giving you greater insight into your website's search results. Overall, using HubSpot's SEO Analytics 2.0 tool can save time while providing valuable information for improving your website's performance on Google search.
Public Beta
Available to Marketing Hub Pro Enterprise Customers
Google's Enhanced Web Conversions Integration
As we enter the cookieless, privacy-first world, a lot of responsibility falls on the shoulders of companies like HubSpot. Google's Enhanced Conversions Integration is one way that HubSpot is helping to meet this challenge. Google's Enhanced Conversions is a tool that allows businesses to measure and optimise their ad campaigns. It provides insights into how well ads perform and how they can be improved.
The integration allows for more accurate conversion tracking without using cookies. This is accomplished using Google's first-party data, collected through signed-in users and Google products like Search and Maps. In addition, the integration provides more transparency into how conversion data is used and incorrectly reported conversions are flagged.
As a result, HubSpot can provide its customers with more reliable conversion data while protecting their privacy. This is just one example of how HubSpot is rising to the challenge of building a privacy-first world.
HubSpot Ads Conversion Events
Using HubSpot Ads Events, you can sync your CRM lifecycle stage changes with your ad delivery on Google. This allows you to target your ads more accurately and improve conversion rates.
To set this up, simply create an event in HubSpot and select "Ad Conversion" as the type. Then, specify the Google Ads account you want to use for synchronization. Once you've done this, your ads will be automatically optimized based on the interactions that contacts have with your website and HubSpot Ads tool. As a result, you'll be able to reach your target audience more and achieve better results from your campaigns.
Now Live
Available to Marketing Hub Professional and Enterprise Customers
Forecasting & Goals Improvements



HubSpot's additional improvements to deal management features will help you win more business and grow your company more efficiently. Including team goals, fiscal forecasting, and a more robust integration across deals and forecasting.
In addition, it also includes a new goals tool. With these new functionalities, you can modify your CRM to display which properties and deals matter most to your business, making sure high-priority initiatives stay top of mind.
Public Beta
Available to Sales and Service Hub Pro and Enterprise Customers
Board Card Configuration
When it comes to board card configuration, admins have the ability to increase access to customer insights by selecting up to four properties to display board cards of all pipeline objects. This includes deals and tickets, as well as custom objects. With crucial information upfront and centre, sales leaders can manage deals more accessible and close deals faster.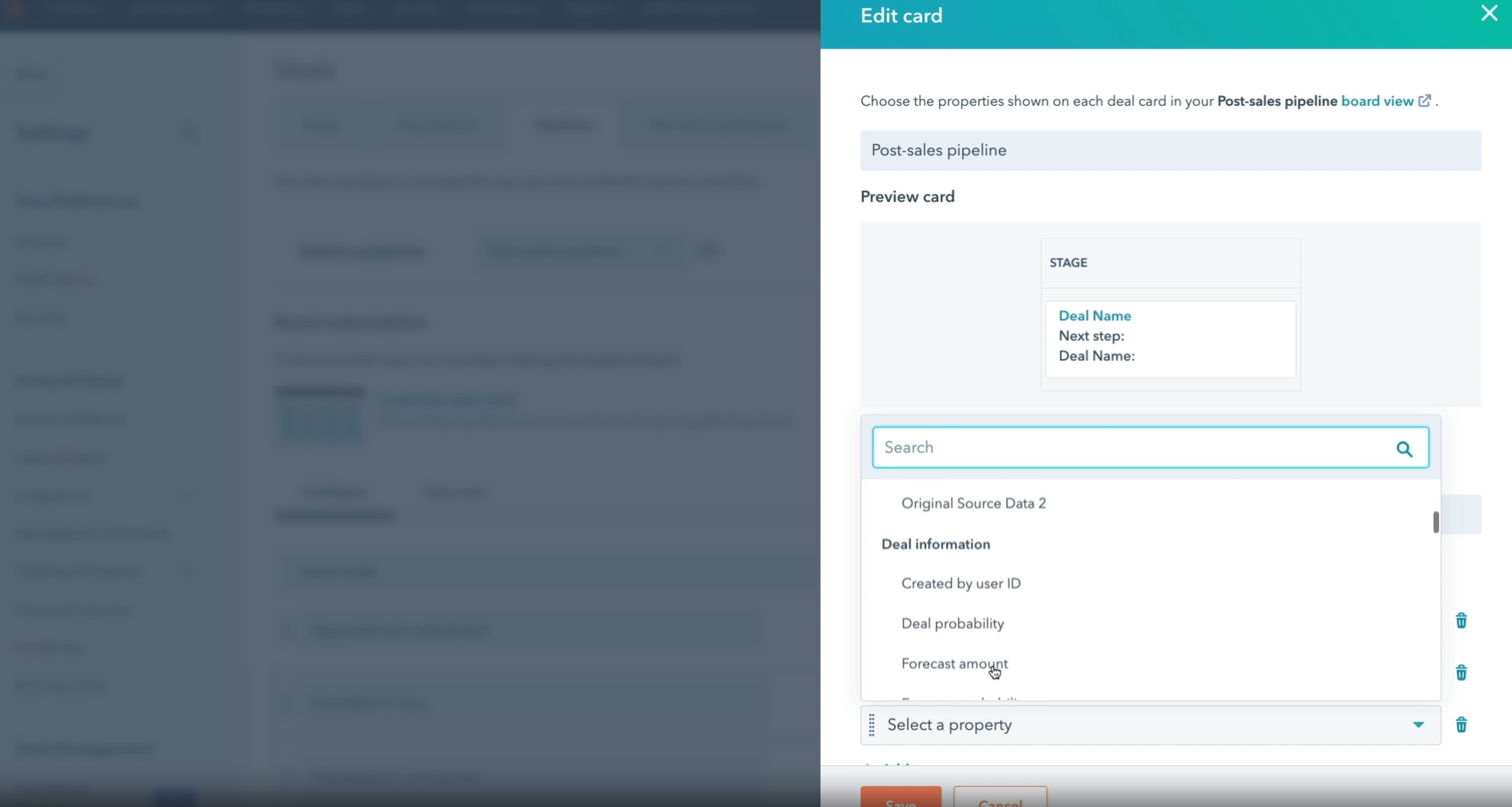 By using board card configuration, sales teams can improve their productivity and performance while gaining a competitive edge. In today's competitive marketplace, board card configuration can differentiate between winning and losing.
Now Live
Available to Sales and Service Hub Pro and Enterprise Customers
New Activity Types & Configurable Buttons
HubSpot's new customer connection feature allows users to log various communication activities, including SMS, LinkedIn Messages, WhatsApp, and physical mail. This helps ensure that all necessary information is recorded in one central location for easier reference.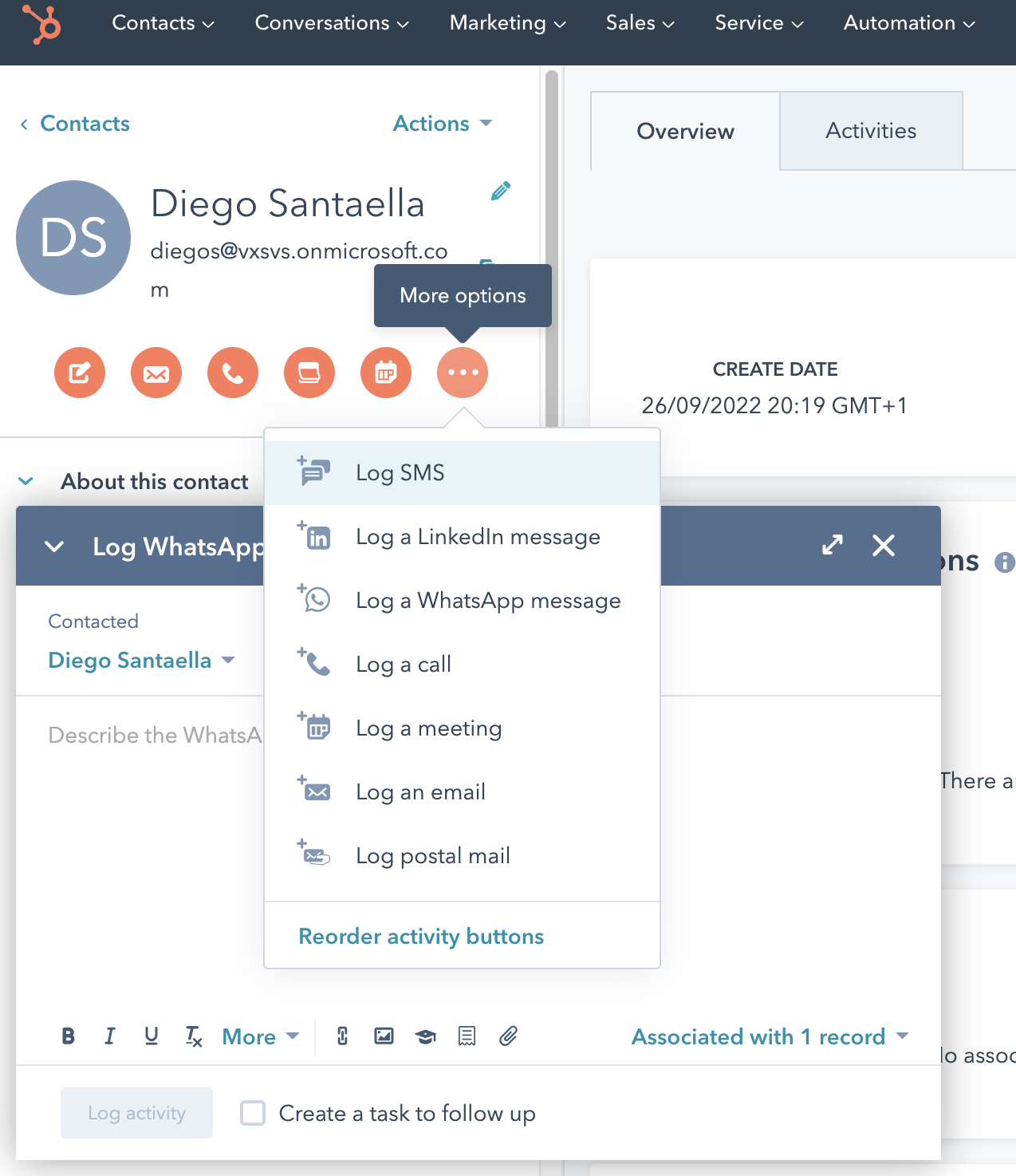 You can also customise which activity buttons appear in the record highlight card to streamline their workflow. This added flexibility makes it easier for teams to track and monitor customer communication activities.
Now Live
Available to All HubSpot Customers
Records Overview Tab
HubSpot's new Records Overview Tab lets users quickly access critical information on one customizable overview tab. Users can choose which record properties they want to be displayed, making it easier than ever to gather all the necessary details in one convenient location.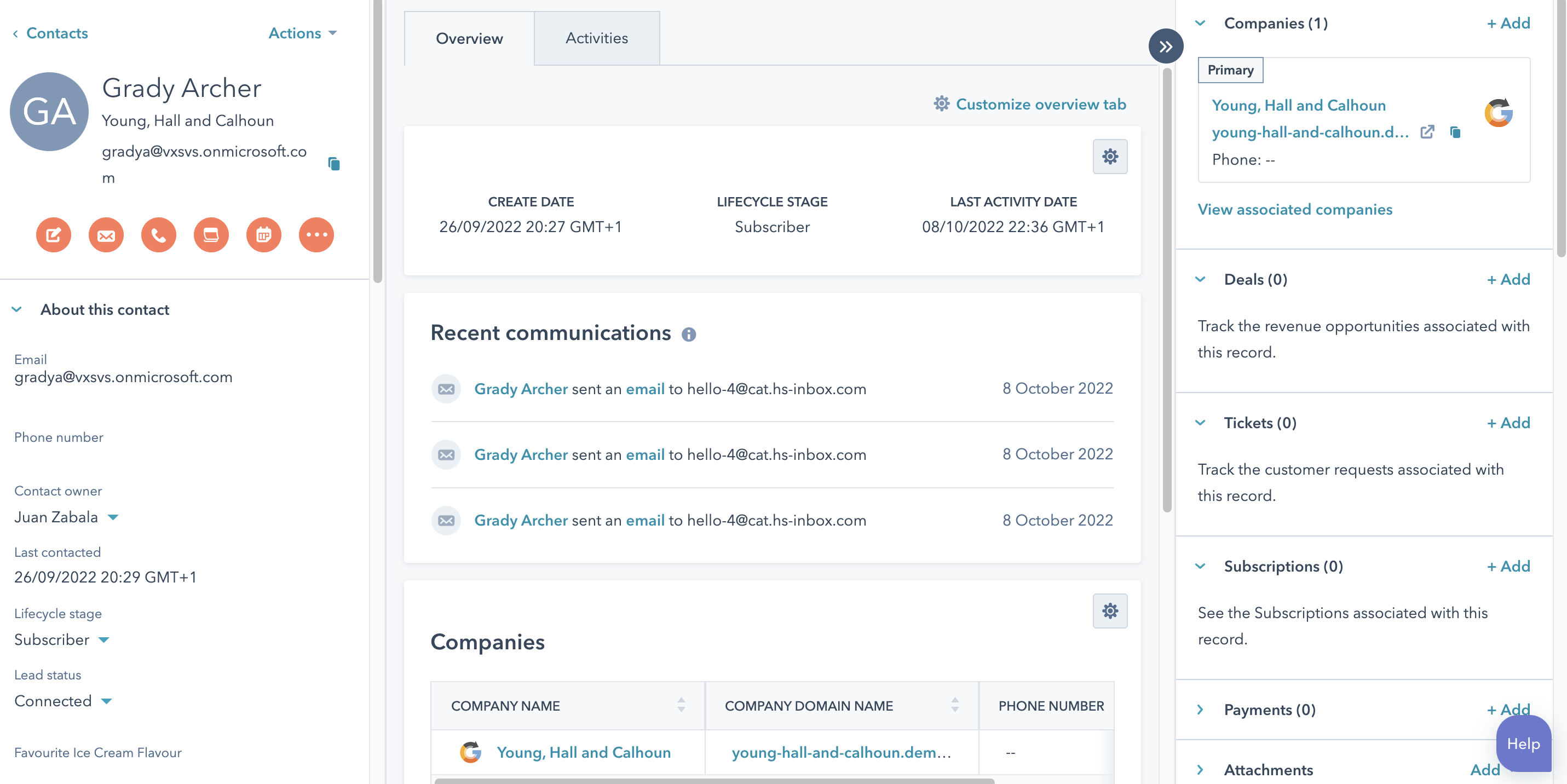 Public Beta
Available to All HubSpot Customers
Data Management & Data Quality
Import Error Handling
Stop bad data before it starts. With the Import Error Handling improved import experience, you can discover and fix errors before creating or updating the data in your HubSpot CRM. That means less manual work now and fewer data headaches down the road, giving you more time and confidence to level up your impact.
Now Live
Available to All Operations Hub Customers
Property Validations
With the amount of data created daily, it's impossible to keep up while users constantly input data into your CRM without following a time-consuming process.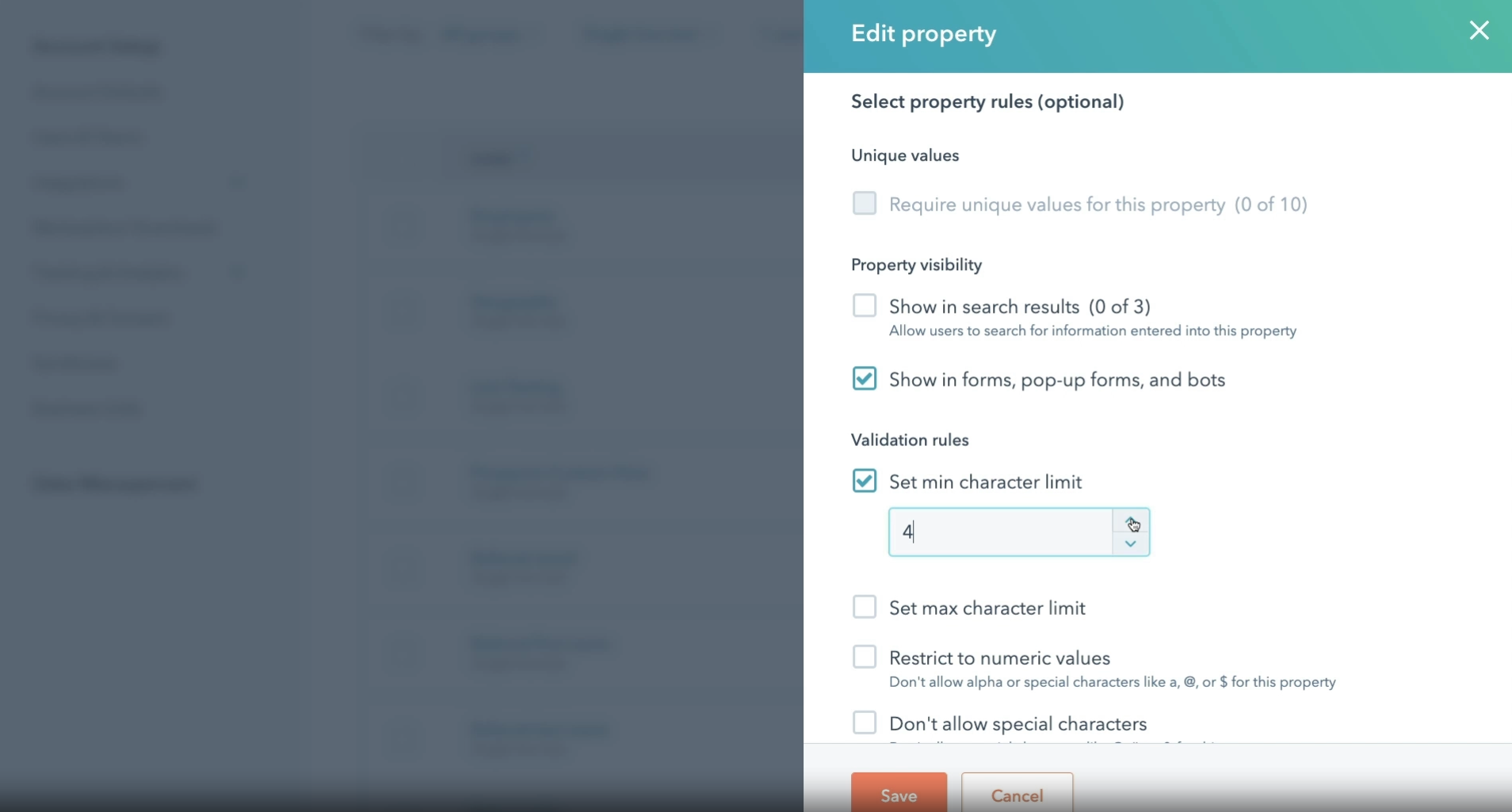 With property validations, you can now create and enforce rules for specific properties that govern what users can (and can't!) save as a property value. The result? Your teams can count on a more reliable database, higher quality data to make tough business decisions, and a better customer experience.
Now Live
Available to All Operations Hub Customers
Custom Object Builder
Custom objects allow you to customise your data model around your company, not vice versa. You can create unique and powerful entities to manage your data with a simple, intuitive way to build your custom objects.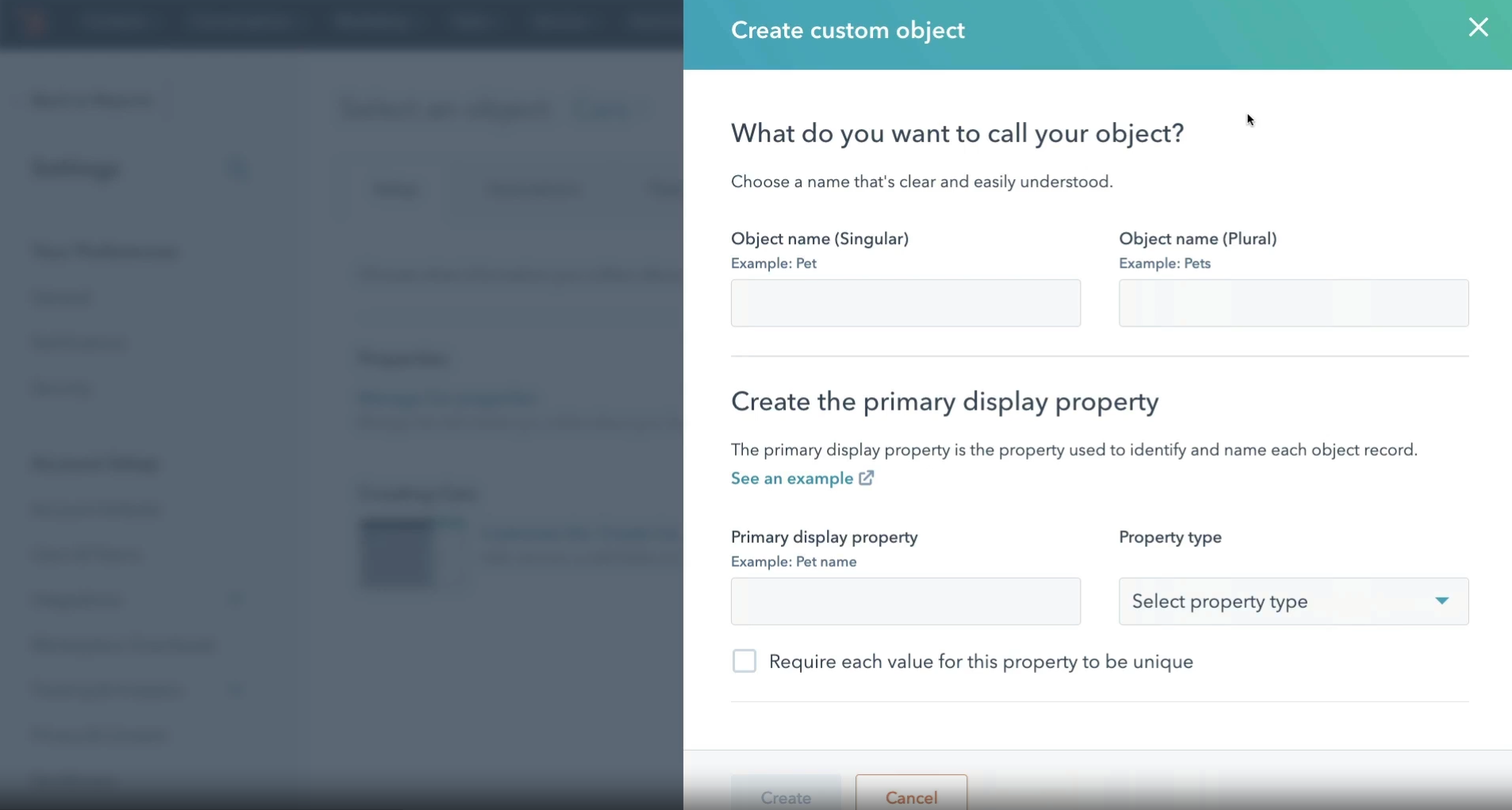 The new builder tool makes it easy for anyone with little technical knowledge of programming or code – No code is required.
Public Beta
Available to All Enterprise Customers
Data Model Overview
HubSpot introduced the data model overview, a more personalised way to optimise how your CRM can do the heavy lifting. HubSpot's Data Model overview is an easy way to stay on top of your data. It provides a complete visual representation that makes it simple and intuitive for you to manage all aspects in one place.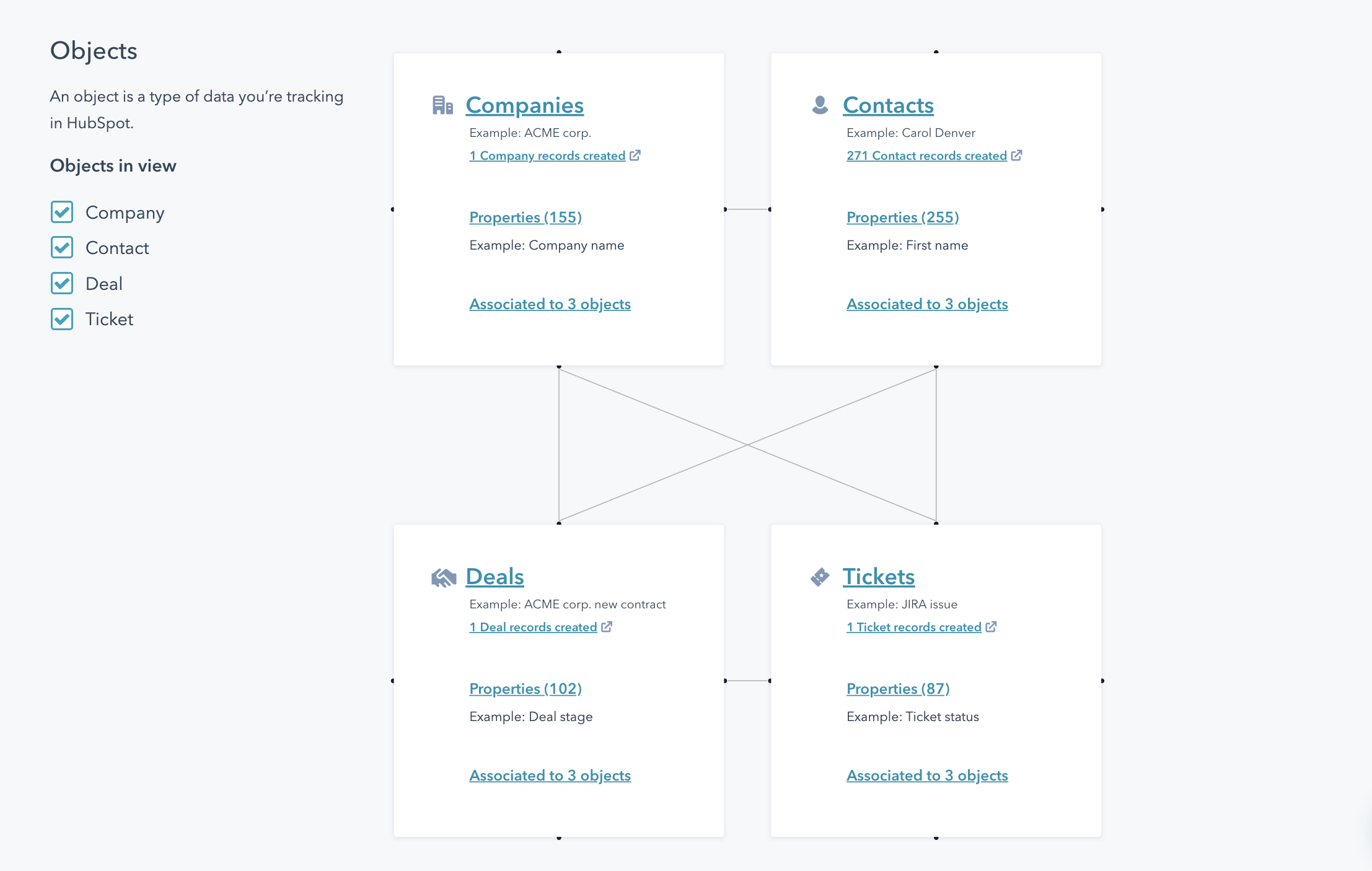 HubSpot's Data Model Overview tool will help you plan and visualise your company's data structure. It's a learning and planning tool that visually represents the data storage system in HubSpot. This visualisation element enables you easily organise your HubSpot CRM data and accurately set it up to reflect your unique business data model.
Public Beta
Available to All Operations Hub Customers
Data Quality Automation Recommendations
A lot goes into perfecting every marketing message, sale pitch and service interaction. Even the tiniest formatting errors can cause significant headaches for your business.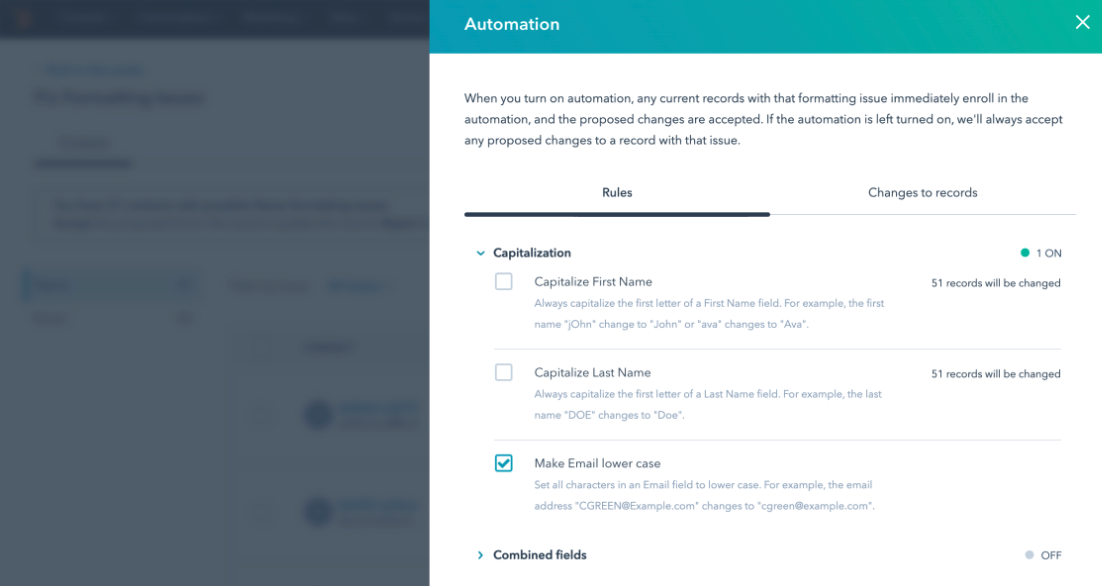 Automation recommendations is a cutting-edge AI system that continuously scans your database for issues and identifies and recommends automation fixes. You can even set rules that automatically fix specific formatting issues (e.g., capitalize the first name) and view all the records in your database which have been impacted by these changes.
Public Beta
Available to Operations Hub Professional and Enterprise Customer
Data Quality Command Center
Insights on the health of all HubSpot data in one place.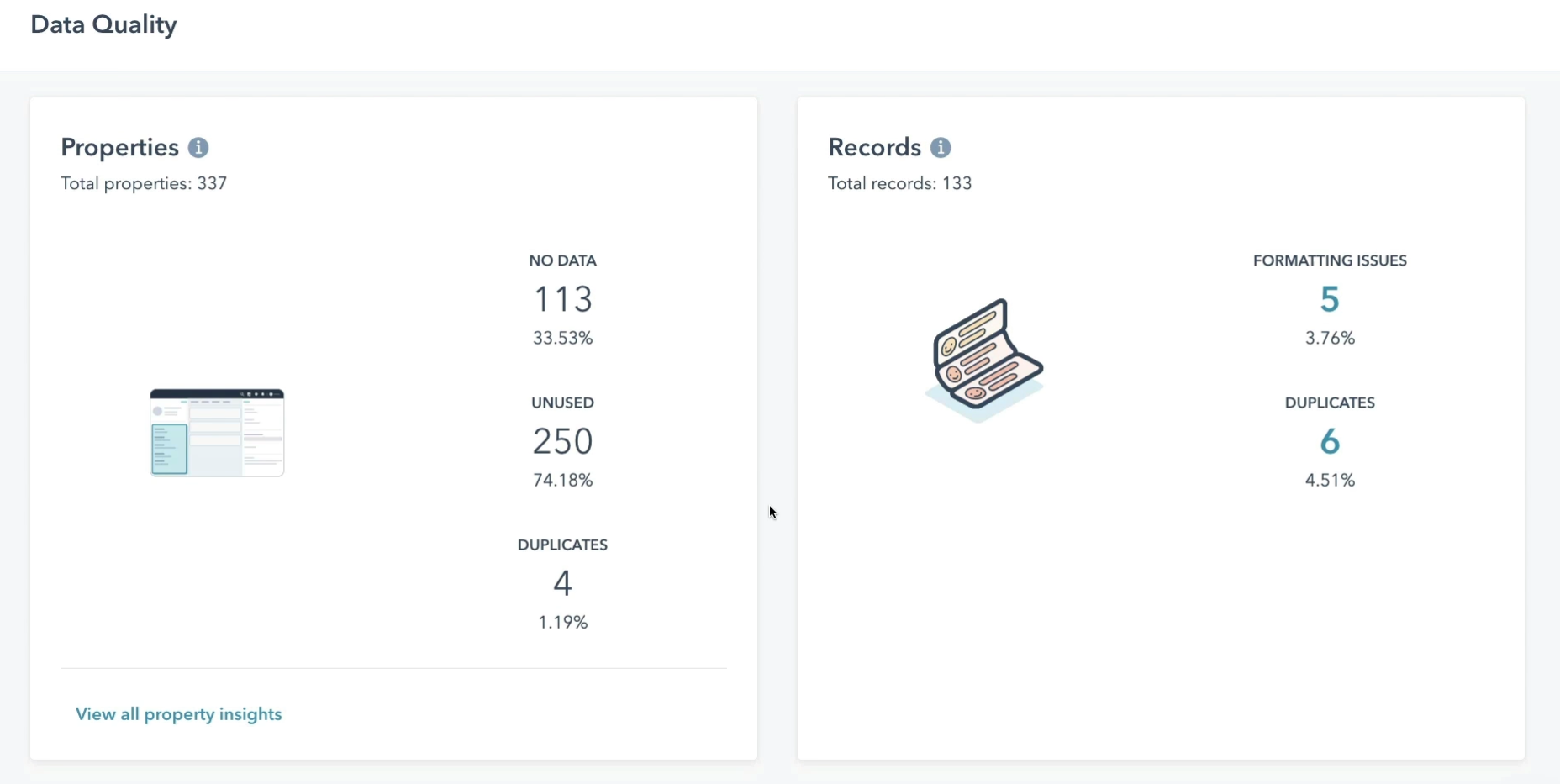 An exciting addition to Operations Hub, the Data Quality Command Center command centre has a new addition that will give you at-a-glance insights into the health of all your data in one place. You can identify unused properties, sync bottlenecks and formatting issues with this dashboard and fix the errors right from the command centre.
Now Live
Available to Operations Hub Professional and Enterprise Customers
Debugging
Additional improvements to the debugging experience. HubSpot has introduced a new CRM mid-panel card logging system that allows developers to monitor how their private apps function.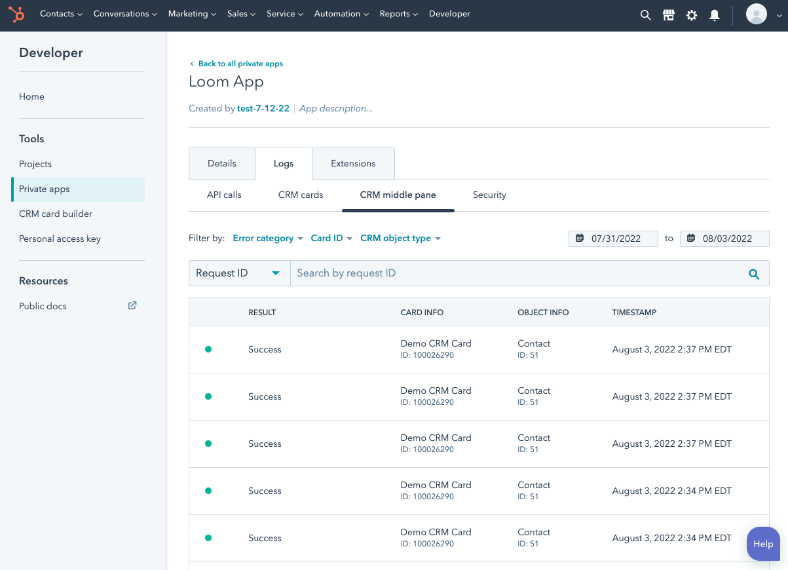 Each log will contain details about each execution, including whether it passed or failed.
Public Beta
Available to Sales and Service Hub Enterprise Customers
Product Sync Improvements
It's crucial that you stay connected with your customers. This year connectivity is king, and HubSpot started by expanding your control over your data.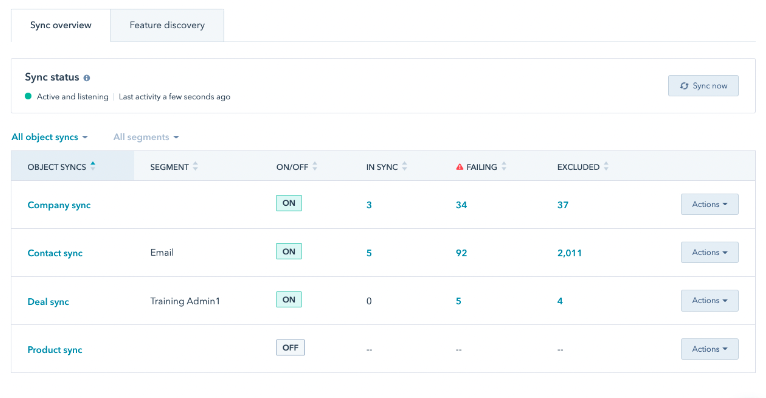 You can connect third-party apps to your HubSpot product library to sync your data in both directions. You won't have to jump back and forth from your work apps to your CRM.
Now Live
Available to All Operations Hub customers
Data Health Sync Improvements
HubSpot's Data Sync Health improvements are now live to help you keep your teams aligned and always alert to possible issues with your data syncing.

You'll be able to better understand integration health and diagnose syncing data issues quickly, so your team never has to slow down for consistency checks.
Now Live
Available to All Operations Hub Users
Projects GitHub Integration
Developers can use GitHub to keep track of the code they are working on in the HubSpot Project.
Store all their code in one place, easily see what needs to be completed next, collaborate with your team using familiar Github tools and workflows, and trigger project build by pushing code to their repositories.
Public Beta
Available to Sales and Service Hub Enterprise Customers
CRM Card Builder
HubSpot's CRM card builder provides an interactive interface for developers to develop JSON payloads that deploy custom cards.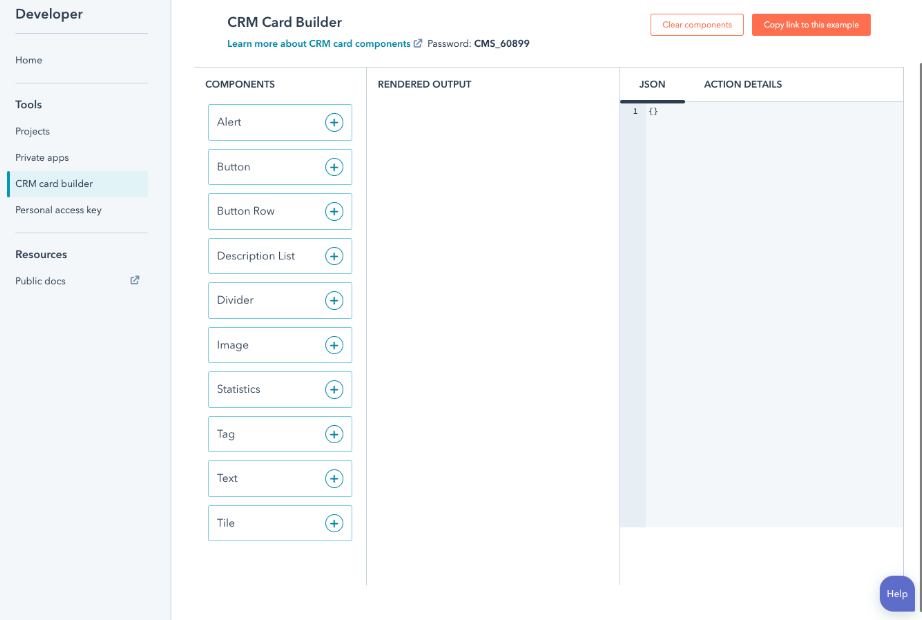 With an interactive interface, developers can easily create custom JSON payloads that will be deployed in HubSpot's middle panel for users of all levels to access their job-related information more conveniently than before.
Public Beta
Available to Sales and Service Hub Enterprise Customers
Customer Service
Service Desk
In addition, HubSpot announced new features to help customer service teams create more connected experiences. One of these is a fully-connected service desk, which provides an interactive place where customers can get assistance from the company's knowledgeable team members by using channels like email or chat; it also includes automation tools so that responses are sent back in real-time as questions come up during operations.
HubSpot's Service Hub has always been a valuable tool for customer service teams, allowing them to streamline their communication and provide better support to their customers. With the addition of a helpdesk, integrated channels, and automation capabilities, HubSpot's Service Hub is more connected and powerful than ever.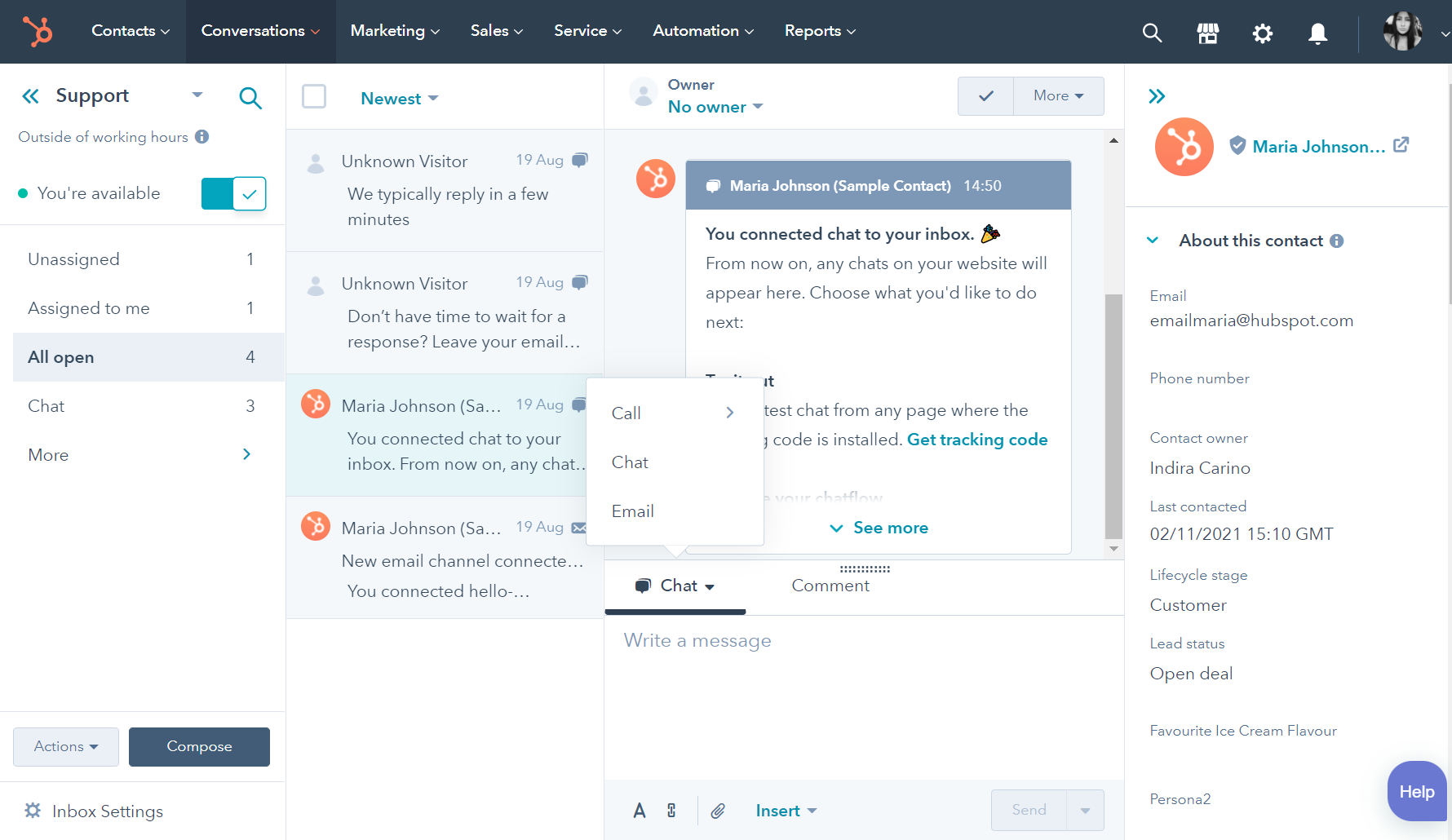 The helpdesk feature allows teams to manage and respond to customer inquiries easily, while integrated channels like email, live chat, and social media make it easier for customers to reach out for assistance. Automation capabilities streamline repetitive processes, freeing team members to focus on providing top-notch customer service. Overall, HubSpot's updates to Service Hub offer a comprehensive solution for all of a team's customer service needs.
Now Live
Available to Service Hub Pro and Enterprise Customers
WhatsApp Integration
HubSpot's WhatsApp integration allows teams to connect their WhatsApp business account to communicate with customers through HubSpot. This is an excellent way for companies to keep track of customer communications and respond promptly.
HubSpot's WhatsApp integration is simple to set up and use, and it offers many features that make it a powerful tool for customer communication.
For example, HubSpot's WhatsApp integration allows companies to:
Respond to customers directly from HubSpot without having to switch between applications;
View all customer communications in one place;
Set up automated responses for common questions; and
Track whether customers are responding to messages.
HubSpot's WhatsApp integration is a valuable tool for companies that want to improve customer communication. This integration eliminates the need to switch back and forth between apps, as chats can be managed from a single location within HubSpot. By connecting their WhatsApp business account to HubSpot, teams can take advantage of HubSpot's powerful features to provide better customer service.
Private Beta
Available to Sales and Service Hub Pro and Enterprise Customers
Inbound Calling
The HubSpot Inbound Calling tool offers a unique solution for sales reps looking to place and receive calls without exposing their personal phone numbers. This feature allows reps to generate unique HubSpot phone numbers that can be used for all communication with leads and customers.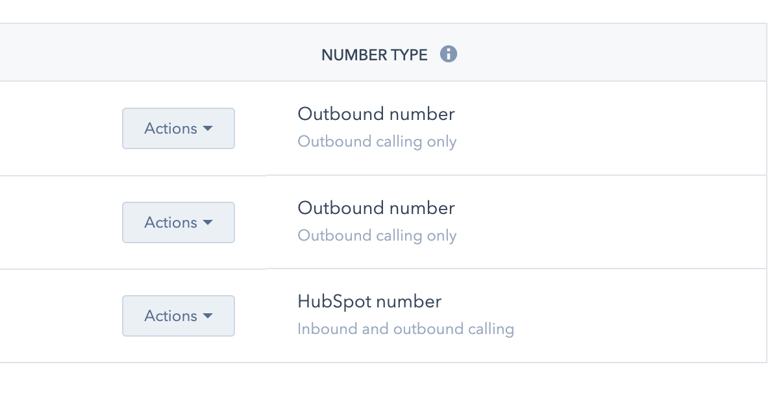 In addition to protecting privacy, this tool provides transparency by allowing calls to be recorded for training and review purposes. As HubSpot users continue to see success with the Inbound Calling tool, it is becoming a crucial component of the overall sales process. Not only does it keep personal information secure, but it also improves efficiency and helps reps better serve their leads and customers.
Now Live
Available to All Sales and Service Hub Pro and Enterprise Users
As HubSpot is an all-in-one CRM platform, the actual take making your life easier seriously; understanding that your business requires solutions as unique as you are to grow better. As part of the HubSpot, partner community, we are incredibly proud and excited about these new updates (and many more to come) and what it means for our client and our growth as we move towards data analysis and performance to provide a holistic customer experience from anywhere.
Want to start a discussion about this topic? Book some time with me :)