Staying at the forefront of the CRM revolution, HubSpot is constantly innovating its tools and features to bring users a more productive, secure, and intuitive experience. Let's delve into the details of the latest updates to give you a better understanding of these new capabilities.
Logging Emails to the CRM Retroactively
Understanding the feature
Forgetting to log an email in your CRM is a common oversight. Thankfully, HubSpot has introduced the ability to log emails retroactively. After an email is sent, you can log it to the CRM and associate it with the proper records.
Making it work for you
Here's a practical scenario. You're a sales representative and have just wrapped up a valuable conversation with a prospect via email. In the rush, you forget to log this crucial correspondence into the CRM. Fear not; with the Gmail or Office 365 add-ins by HubSpot, you can go to your sent folder, locate the email, and log it into the CRM right from there.
A Centralised Audit Log for Security and Login Activity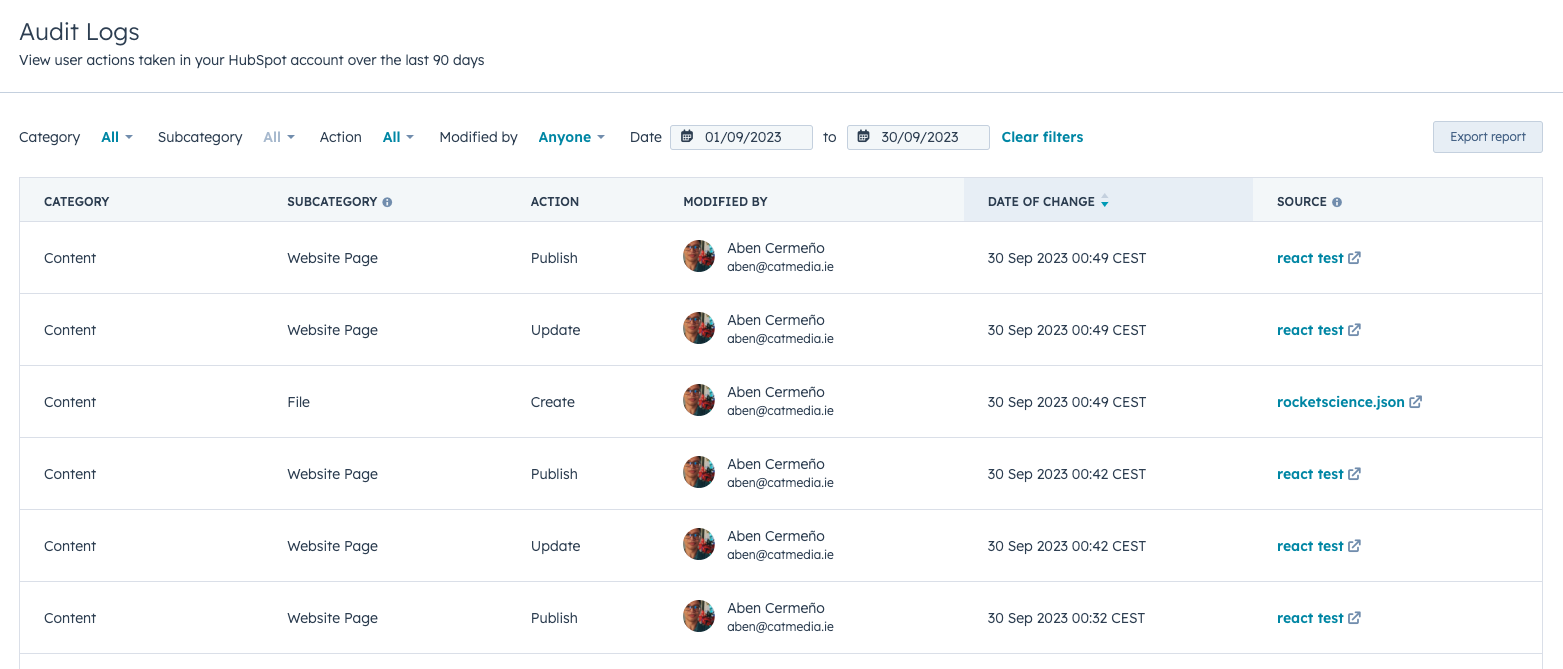 Source: HubSpot
Understanding the feature
Security is paramount. To that end, HubSpot's new centralized audit log offers a real-time snapshot of all user login activities and security-related actions taken within the account.
Making it work for you
Imagine you are a Super Admin for your company. One of your colleagues can't access their account, or perhaps there's a potential security breach. Instead of sifting through separate pages for login and security activity, you can now view a centralized log. In a few clicks, you will be in the 'Audit Logs' section in the settings, tracking down the problem and acting promptly.
Round-Robin Meeting Rotations in CRM Scheduling

Source: HubSpot
Understanding the feature
Scheduling meetings on behalf of others can be a complex task, but HubSpot has now made it simpler. The new Meeting Rotations feature allows Sales Hub Pro+ paid users to book meetings through a round-robin rotation right from the CRM record.
Making it work for you
For instance, let's say you're an administrator who needs to schedule a client meeting with one of your team members. Instead of using an external tool to decide who's next, you can just go to the CRM record and use the Meeting Rotations feature. HubSpot will automatically tell you which sales rep is next up to receive the meeting.
Simplified Login with Microsoft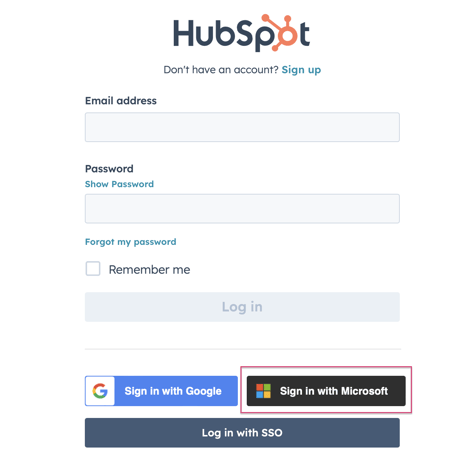 Source: HubSpot
Understanding the feature
The ability to login to HubSpot with Microsoft credentials is a new feature designed to enhance the user experience. The goal is to reduce friction and make login easier.
Making it work for you
Say goodbye to remembering another set of credentials. If you're already a Microsoft user, you can just select 'Sign in with Microsoft' on the HubSpot login page. It's that simple!
Trigger Workflows with Events and Custom Behavioral Events

Source: HubSpot
Understanding the feature
HubSpot's update to workflow triggers enables users to start a workflow when an event occurs. This could be anything from a contact's city changing to "Dublin" or a sales document being shared with a client.
Making it work for you
Imagine you're a marketer who wants to send a special offer to anyone whose city changes to "Dublin" in their customer profile. With the new event trigger, the moment a contact's city changes to "Dublin," your special offer email can be triggered and sent out instantly.
Calculated Properties: Advanced Formula Builder

Source: HubSpot
Understanding the feature
The advanced formula builder for calculated properties is a new tool that allows you to create custom number formulas and calculations. This powerful feature transforms raw data into actionable insights.
Making it work for you
As a sales manager, you might need to analyze complex sales data. Instead of using an external spreadsheet or software, you can use HubSpot's advanced formula builder. For instance, you could create a custom formula to calculate the average time to close deals per sales rep, giving you a clear insight into your team's performance.
CRM Activity Cards in Preview Sidebar
Understanding the Feature
The new CRM activity cards in the preview sidebar allow you to view critical CRM activities data, including the pinned activity and the last three recent communications. This valuable information can be viewed from index, board, record pages, and more without needing to visit the full record timeline.
Making it Work for You
Sales reps are constantly busy, so seeing vital information in the right place is crucial. By adding activity cards to the preview sidebar, reps can save time by avoiding unnecessary visits to a record timeline to see essential details.
New HubSpot Embed for Salesforce
Understanding the Feature
HubSpot's Salesforce integration has been augmented with a new HubSpot embed. This embed provides users with a more comprehensive view of their data within Salesforce, including all timeline insights, contact and company insights, property history, and more.
Making it Work for You
Sales teams can now access all the power and insights of HubSpot's records timeline, association, and automation capabilities, all within Salesforce. This updated feature can now be added to various types of Salesforce records, including leads, contacts, accounts, and opportunities.
Create Tasks and Tickets in Microsoft Teams

Source: Microsoft Teams
Understanding the Feature
Microsoft Teams' integration with HubSpot now boasts enhanced functionality. Users can effortlessly create HubSpot Tasks and Tickets and associate them directly with HubSpot records right from their Microsoft Teams interface.
Making it Work for You
Frequent collaboration sessions about a customer over Microsoft Teams can now be immediately actioned. For instance, if there's a discussion about a customer issue, a ticket can be created on the spot without leaving the Teams interface. Similarly, after discussing a potential lead, a task can be set up to ensure timely follow-up. This seamlessness ensures conversations quickly turn into concrete actions.
New Settings Page for Salesforce Integration
Understanding the Feature
The integration between Salesforce and HubSpot is more transparent now. The settings page for this integration has been revamped, giving users a clear insight into the synchronization processes. The distinct tabs for contact, company, and deals now offer a clearer reflection of how the syncing works.
Making it Work for You
Different aspects of the Salesforce integration – contact, company, and deal sync – function differently. This update ensures that the users are well-aware of how each element syncs and provides them with a consistent settings page that matches custom object sync.
Enhanced Data Sync & Salesforce Integration Visibility
Understanding the Feature
HubSpot now provides improved visibility by showcasing the properties used by Data Sync and the Salesforce integration in the "Used In" column. This ensures that users don't inadvertently break properties updated by integrations, offering a safeguard against inadvertent deletions.
Making it Work for You
With numerous records being updated continuously, it's paramount that teams understand how updates can affect integrated tools. This heightened visibility aids users in comprehending how the properties in HubSpot are mapped to their integrations, fostering better tool management.
Integration Sync Card for Dynamics 365 & NetSuite
Understanding the Feature
HubSpot now offers integration sync cards for both Dynamics 365 and NetSuite. These sync cards allow users to view the sync status and linked records directly from contact, company, or deal records within HubSpot.
Making it Work for You
The Settings page provides a broad overview of Sync Health, enabling users to monitor the overall synchronization status. However, if there's a need for a more granular understanding, the Integrations Sync Card allows users to delve deeper into individual records. This two-tiered approach ensures you're always aware of your sync status, whether you need a high-level view or a detailed record-by-record breakdown.
---
The constant evolution of HubSpot's tools and features is geared towards making the CRM experience smoother, more intuitive, and integrated. By understanding and leveraging these updates, teams can work more efficiently and ensure that their CRM is always up-to-date and in sync with their other business tools.
How do you envision these new HubSpot CRM tool updates improving your daily workflow? Share your thoughts and insights below.
What's the story?