G2 is a powerful peer-to-peer review site that helps businesses get feedback on their products and is one of the leading review platforms for business software.
Based on reviews from thousands of product users, HubSpot CRM recently reached the leader score of top leader CRM software in the G2 live grid. 🤘❤️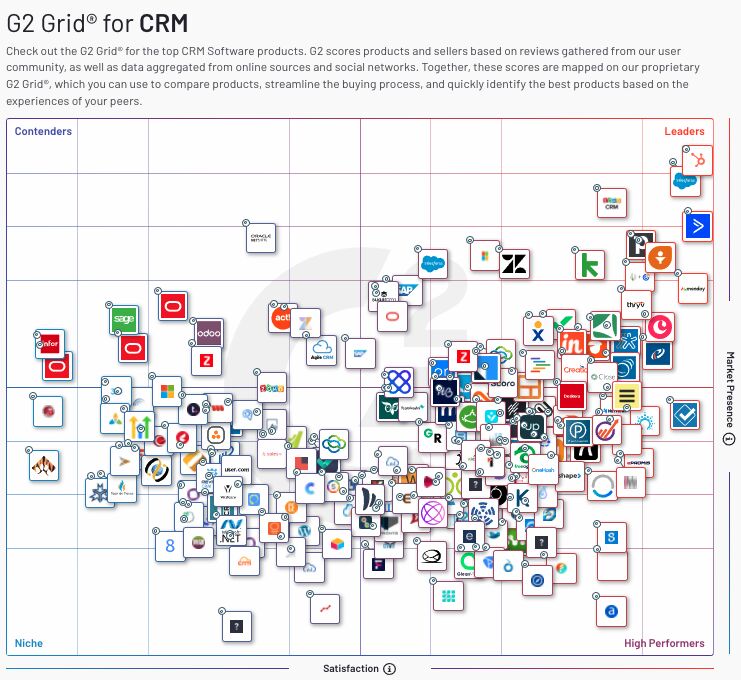 Image source: G2
A CRM is the foundation of your business, so it's critical that you choose the best CRM to enable your success.
The best CRMs are essential to your business's success and they can be the difference between you being a successful company or one that struggles. Maintaining an effective customer relationship management system is crucial for any type of organization, and becomes even more important as your business grows and scale.
With the HubSpot CRM platform, you can take a more in-depth approach to grow your business. This platform is built for those who want everything at their fingertips and helps power this optimistic outlook on success, backed up with a continuously growing ecosystem of partners, app marketplace and community.
Marketing, Sales, Service and Operation teams work together to remove any friction in the buyer's journey so that they can focus on what really matters: Your customers 😍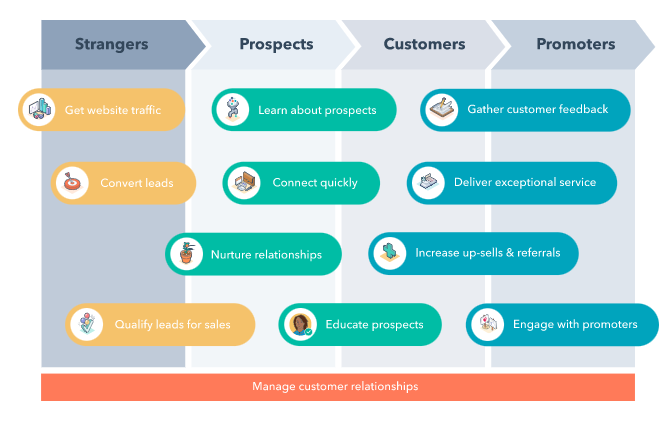 Image source: HubSpot
You'll never have to worry about losing your data or juggling multiple apps again. The Marketing Hub is a single, powerful platform that combines all of the marketing tools you need in one place so it's easier than ever for businesses like yours to get their message out there and convert customers at scale!
Sales Hub takes the pain out of sales with a customer-centric CRM platform that your whole team will love. Now you can focus on what really matters: connecting and nurturing customers to increase revenue for your company.
With Service Hub, you can finally bring all your customer service data and channels together on one CRM platform. This will allow for efficient onboarding as well as supporting existing customers through retention processes so they remain happy with their experience.
Operations teams need the tools that make them central for growth. The Operations Hub makes it easier than ever to connect apps, automate processes and align teams around one source of truth for customer data.
HubSpot CRM Leader CRM Software 🙌
We've seen it happen time and again: as companies grow, their systems break down. Every team builds their own process which leads to data getting siloed with no centralised efficiency.
Would you like to grow your business? We can help. As a HubSpot Solutions Partner Agency, we'll work with you and alongside the rest of our team at hand-in on everything from HubSpot CRM onboarding to implementing CRM for each type or model in order to for you to focus on delighting your customers--gotta love it!
BOOK A HUBSPOT CRM DEMO