We have always believed in leveraging the best tools to help our clients succeed. Today, we're pleased to discuss a notable accolade achieved by HubSpot, a platform we've closely worked with. On 20 September 2023, HubSpot was recognised by an esteemed industry report, Gartner® Magic Quadrant™, for its prowess in B2B Marketing Automation Platforms - marking its third consecutive year of leadership.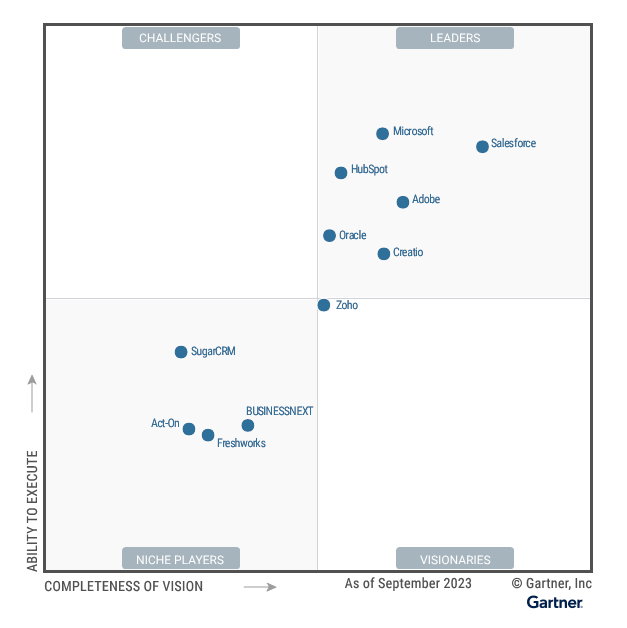 Source: Gartner® Magic Quadrant™

In the fast-paced digital era, where AI is continually shaping the marketing landscape, and businesses are searching for the next breakthrough, it's become evident that older growth methodologies are not as potent as they once were.
Revolutionising Relationships: The Power and Potential of HubSpot's SMART CRM
HubSpot's Marketing Hub, an integration of comprehensive tools backed by a Smart CRM, is at the forefront of addressing these challenges. HubSpot's software, driven by its unique AI, allows businesses to navigate the evolving market dynamics, fostering connections that captivate, engage, and nurture customers. The tangible results seen by businesses—increased deal closures, substantial web traffic growth, and lead acquisition—are a testament to its capabilities.
Nicholas Holland, a key figure at HubSpot, emphasised the importance of having integrated, data-driven tools in this rapidly evolving landscape. He expressed his team's commitment to continuous innovation, ensuring marketers have the edge they need.
Source: HubSpot
HubSpot's recent enhancements to its Marketing Hub reveal its commitment to the future:
Introduction of Customer Journey Analytics and SMS messaging.
Strengthened security provisions, advanced ad conversion events, and comprehensive cookie management.
Sophisticated data consolidation tools and seamless integrations with Salesforce, Netsuite, and Dynamics.
Comprehensive infusion of HubSpot's AI across the Marketing Hub.
For businesses and agencies keen on delving into the specifics of these features, HubSpot has laid out a roadmap and detailed list on their platform, available here.
From our standpoint at Cat Media, HubSpot's recognition is not merely an accolade. It's a confirmation of the platform's efficacy and its alignment with the future of B2B marketing and more. We're excited about the opportunities this opens up for our clients and the broader marketing community.
For those intrigued by the industry recognitions and the specifics of various platforms, we'd recommend a deep dive into recent reports that discuss the state of B2B Marketing Automation in 2023. Access the complete report here.
From the vibrant streets of Dublin, all of us at Cat Media celebrate HubSpot's achievement and eagerly anticipate more years of synergistic collaboration.